The CANN family
From Morchard Bishop, Devon to Swanage, Dorset, UK
Morchard Bishop is a village of thatched cottages and 18th century houses that once belonged to the Bishops of Exeter. It lies in the county of Devon, south-west England.

Its church is dedicated to St. Mary the Virgin and stands on high ground in the village with spectacular views to Dartmoor and Exeter.

For more information on Morchard Bishop try

= My Direct Cann Ancestors

John Cann married Anne Davey in St. Mary's Church, Morchard Bishop on 6th December 1778. Neither could write their name but their marks were witnessed by William Can (who was also illiterate) and George Grant. They had nine children between 1779 and 1808
William Cann baptised 27 June 1779
John Cann baptised 5 May 1782
John Cann baptised 6 February 1785
Richard Cann baptised 24 June 1787

Thomas Cann baptised 8 August 1790
Elizabeth Cann baptised 13 May 1792
Robert Cann baptised 6 September 1795
Peter Cann baptised 25 March 1798
William Cann baptised 16 June 1808
At this time in Morchard Bishop there were two Thomas Canns born in 1789 and 1790. According to research by the late Ernest Cann, the 1789 Thomas (son of William Cann and Judith James) married Jane Andrews, which left the 1790 Thomas Cann aged 21 marrying Mary Smith.

Thomas Cann married Mary Smith on 16th October 1811 in St. Mary's Church, Morchard Bishop. Both signed by marks in the register and John Smith and Sarah Smith witnessed these. They had nine children between 1812 and 1834.
In the Baptisms book, kept in the church vestry, Thomas was described as a labourer of Coldacott. By the time of his 6th child in 1824, he was described as a farmer at Cold Cott. On modern maps this place no longer exists, but local knowledge and a map of 1886 shows Coldcott a few miles to the north east of Morchard. Only two walls and bumpy fields remain, yet once it was a thriving farm with over 7 acres, owned by one James Huggins, occupied by Thomas Cann and his family. The field names such as Southern Close, Furzey Down and Orchard would have been familiar terms.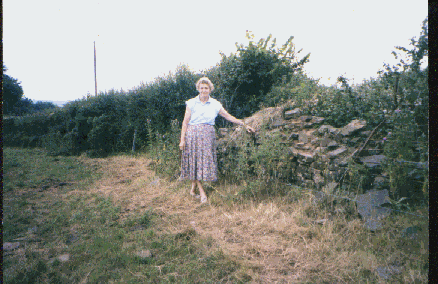 A local historian by the last remaining walls of Coldicott (Colaycott), Crookstock Lane, Morchard Bishop in 1998.
Thomas and Mary's children were
Anne Cann baptised 12th March 1812
Elizabeth Cann baptised 11 April 1814
John Cann baptised 15 September 1816
William Cann baptised 30th May 1819

Robert Cann baptised 30 December 1821
Thomas Cann baptised 6 June 1824
George Cann baptised 13th July 1827
James Cann baptised 1st May 1831
Peter Cann baptised 4th May 1834
All were baptised at Morchard Bishop.
Thomas Cann of Coldecott was buried at St. Mary's, Morchard Bishop on the 6 January 1841, aged 52.

Robert Cann aged 24 married Mary Ann Hutchings in St. David's Church, Exeter on 28th November 1846. His occupation then was labourer although he was living at David's Hill, Exeter at the time. His wife Mary was a labourer's daughter and was living at New North Terrace, Exeter.
This Robert and Mary are the first names in my Cann Family Bible.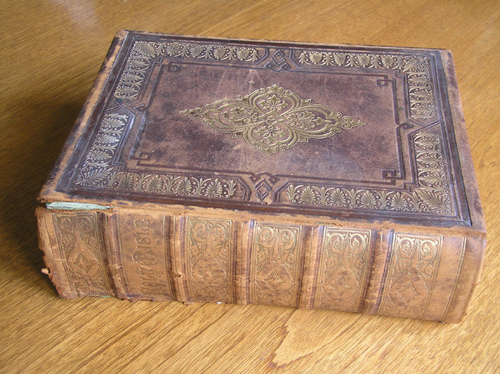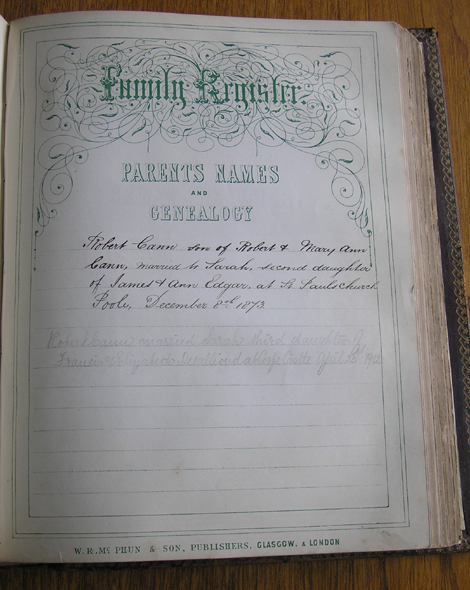 Robert Cann, son of Robert & Mary Cann
The 1851 census finds this family living in Exeter, Devon. By now they have two children, Emma aged 3 and Robert aged 1. Mary's name has been incorrectly entered as Margaret.
By 1861 Robert had taken his family to Poole in Dorset, on the south coast of England, looking for a better life than that of a farm labourer. He took up work in an iron foundry and supported his growing family. He and Mary now had 3 children from ages 8 months to 11years old (Robert, Ellen and baby Mary). Their 12 year old daughter Emma was living as a boarder in Teignmouth.
In 1871, four of the children were together again in Poole. Robert was still working in the foundry and his son Robert aged 21 was working as a Corn Factory Storeman. This was also the year that Emma married. There is some confusion in the 1871 census. Ellen is shown as being born about 1861 but I think this was Mary Annie H. Cann. I have not been able to find Ellen as a 19 year old in that census.
By 1881 Robert had become a Foreman at the Iron Works. The census shows that only Francis was still at home, as the son Robert had found work in Wareham. The census also shows that Mary Anne. H Cann called herself Annie and was working in her sister Emma's hotel near Morden, Wareham. (The Railway Hotel).
Children of Robert and Mary Cann
Emma Cann, born about 1848, Exeter, Devon

Robert Cann born 4th July 1849, Exeter, Devon
Ellen Cann, born about 1852, Exeter, Devon
Mary Annie H. Cann, born 31st July 1860, Poole, Dorset
Francis Albert Cann, born 1st August 1868, Poole, Dorset
By 1891, Robert had left the foundry and declared his occupation to be that of a labourer. Mary and son Francis were still at home, and Francis at the age of 23 had become a carpenter.
Three years later, Mary Cann died in 1894. Robert then went to live with his youngest son Francis in 26 Heckford Terrace, Longfleet, Poole and is shown as a 79 year old with independent means in the 1901 census.
Robert died in 1903 in Poole.

Robert Cann was also aged 24 when he got married to Sarah Edgar on 8th December 1873 at St. Paul's Church, Poole, Dorset. She was the second daughter of James Edgar and Ann Toop. Two years later they were living at Wareham, Dorset, where their first child was born and they went on to have four more children. Robert was by 1881 a Corn Dealer, employing one man in his business at Wareham.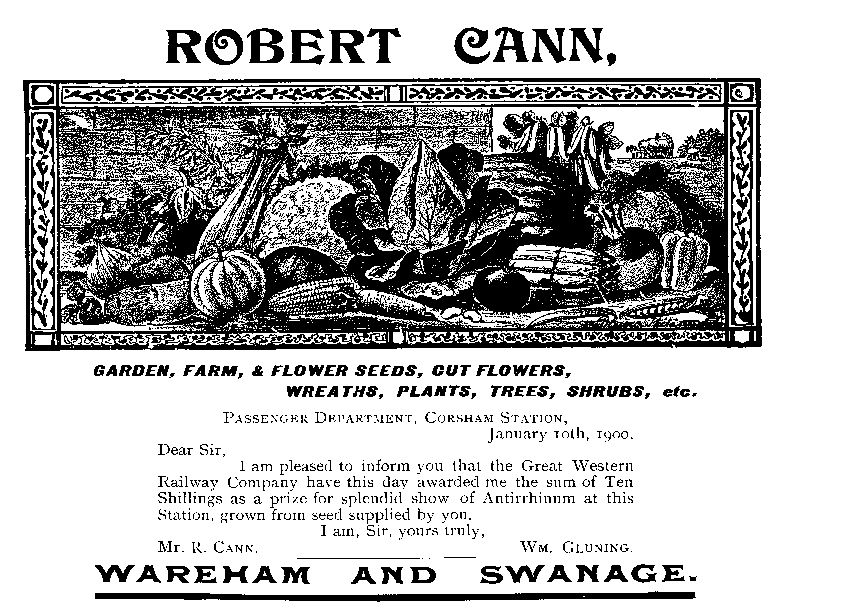 <![if !supportEmptyParas]> <![endif]>
(Please click on photo to see the text)
In the 1891 Census, Robert was aged 41 and gave his occupation as Coal & Corn Merchant. Living in the Manor House, South Street, Wareham with him was his wife Sarah and two daughters, Florence and Annie. He was an employer.
This business expanded and in 1899, his son, Robert Edgar Cann, opened a branch of this business in Swanage High Street.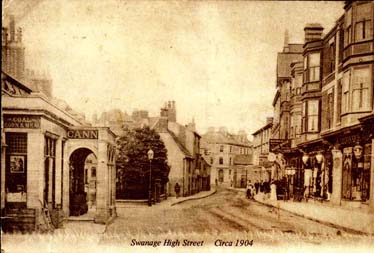 <![if !supportEmptyParas]> <![endif]>
Swanage High Street
(Click to enlarge photo)
In 1901 Robert was 51, Sarah was not at home that census day, but both Florence and Annie were. Their servant, Theresa Toop was also living there. It is possible that this Theresa was a relation of Sarah's, as her mother was a Toop from Poole. Sarah Cann was staying with her two daughters, Ellen and Jessie in the High Street, Swanage.
The two businesses flourished and enabled Robert Cann to have one of the first telephones in Wareham at a rental of £10 per year. In the 1911 directory, only Robert Cann the seed merchant is given a telephone number.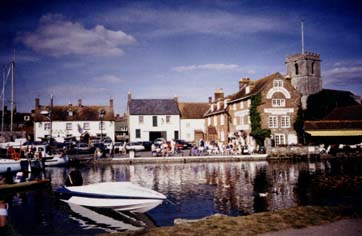 Wareham Quay
(Click to enlarge photo)
Robert Cann used the building in the centre of the picture with the grey roof. If you stand on Wareham Bridge and look at the side of this building the Cann logo could still be seen until a few years ago. It has now sadly faded from view.
Robert and Sarah Cann had five children between the years 1875 and 1887
.
They were
Ellen Louise Cann, born 24th November 1875
Florence Cann, born 11th September 1879

Robert Edgar Cann, born 16th June 1882
Jessie Cann, born 11th February 1885
Anne Beatrice Cann, born 23rd December 1887
The family lived in South Street, Wareham. Sarah died in 1902.
The 1911 Census shows Robert, widower, living in the Manor House, South Street, Wareham. He was still working as a Corn Merchant aged 61. Assisting him was his son-in-law Fred Tatchell, who had married Ellen Cann. This couple had two young children, Philip and Barbara. Anne Cann, single aged 23 gave no occupation.
Robert re-married to another Sarah referred to as Sarah the Second. Sarah Desallioud was of Swiss descent living at Corfe Castle where she and Robert married on 23rd April 1912. They had no children and ten years later, in 1922 Robert himself died, aged about 72. Sarah the second is remembered as always dressing in black with a white lace "fichu" and was a fine needlewoman. Later, she lived with Annie Beatrice Cann at Elderslie, St. John's Hill, Wareham and both Sarah and Annie died in 1960.


Robert Edgar Cann the only son of Robert Cann, was born in Wareham on 16th June 1882, and educated at Elmhouse School. He played soccer for Wareham and later for Swanage, turning out on occasion for Dorset. Playing at outside left, he was known as "the fastest and thinnest footballer in Dorset" and was indeed an outstanding runner. He played for Wareham the season they won the Dorset Senior Amateur Cup.
Apart from his running, he won medal and trophies at athletic meetings for jumping and achieved a name as a cyclist. He retained his interest in sport all his life, and was a knowledgeable student of county cricket. He would often reminisce about W.G. Grace and others he had seen.
In 1899, aged 17 he opened a branch of his father's corn & seed business in Swanage.
In 1906 aged 24, Robert married Lucy Katherine White, daughter of a Master Carpenter. She was a part-time poor-rate (Tax) collector but Robert took over these duties, and eventually in 1938 became the full time Rate Collector in Swanage.
The 1911 census shows Robert and Lucy Cann described as boarders living at Station Road, Swanage. The head of the household was Alice Mary White, who was Robert's unmarried aunt. In the same household was Robert's grandmother, Harriet White, aged 72. They employed two servants.
He was secretary of the Mowlem Trustees for more than 30 years and was a prime mover in the Swanage Music Society, being its general secretary for more than 20 years.
All his life he was a devoted Freemason and belonged to four lodges, being past provincial senior Grand Warden for the Province of Dorset.
He and Kitty (Lucy Katherine) had 3 children.
Kathleen Margaret Cann, born 1st August 1908

Robert Henry Cann, born 25th September 1910
Helen Marion Cann, born 31st December 1914
His first wife, Kitty, died 4th July 1943, and ten years later, Robert re-married a schoolteacher called Gertrude Emily Barnes. The marriage was childless, and ended with the death of Gertrude in 1954. Robert Edgar Cann died 23rd October 1957 at the age of 75 and Swanage was robbed of one of its prominent characters.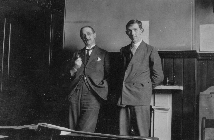 Robert Edgar Cann with his son Robert Henry Cann (my father).
Visit the Dorset Page to learn more about Poole, Wareham and Swanage.
Whilst researching my family roots, I came across other Cann links on the Web, especially at Genforum (the Cann pages)
----------------------------------------------------------------------------------------------------------------------------------------------------------
THE CANN COAT OF ARMS
For anyone who wants to download a picture of the Cann Coat of Arms: here it is!
(Right-click and Save As.)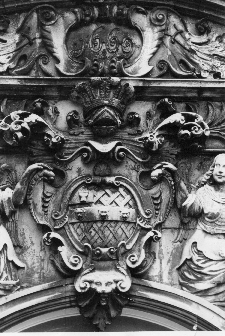 The Arms of Sir Robert Cann 1669
(Blue with silver trelliswork on middle third red, three gold leopards' faces. Above the shield and helmet is the crest, which is described as "Out of a gold crown, a plume of five silver ostrich feathers")
This photo was taken of the porch of Stoke Bishop House, near Bristol. Sir Robert Cann was the oldest son of Sir William Cann, and was Mayor of Bristol in 1662 and 1675.
Over the last few years there has been a lot of interest in this Cann family, so I have put together a new web-page on Sir Robert, his immediate family, Stoke Bishop House, the Coat of Arms and a 300 year old Chair carved with the Cann Coat of Arms.
Click here: Sir Robert Cann and Stoke House
<![if !supportEmptyParas]> <![endif]>
I would welcome any emails about the Cann family, especially if you recognise any names!
If you wish to view or sign the guestbook, please do so!
Thank you.
You are visitor number

since April 2002

Back to Tibblestone Home Page
Last updated 08 January 2017